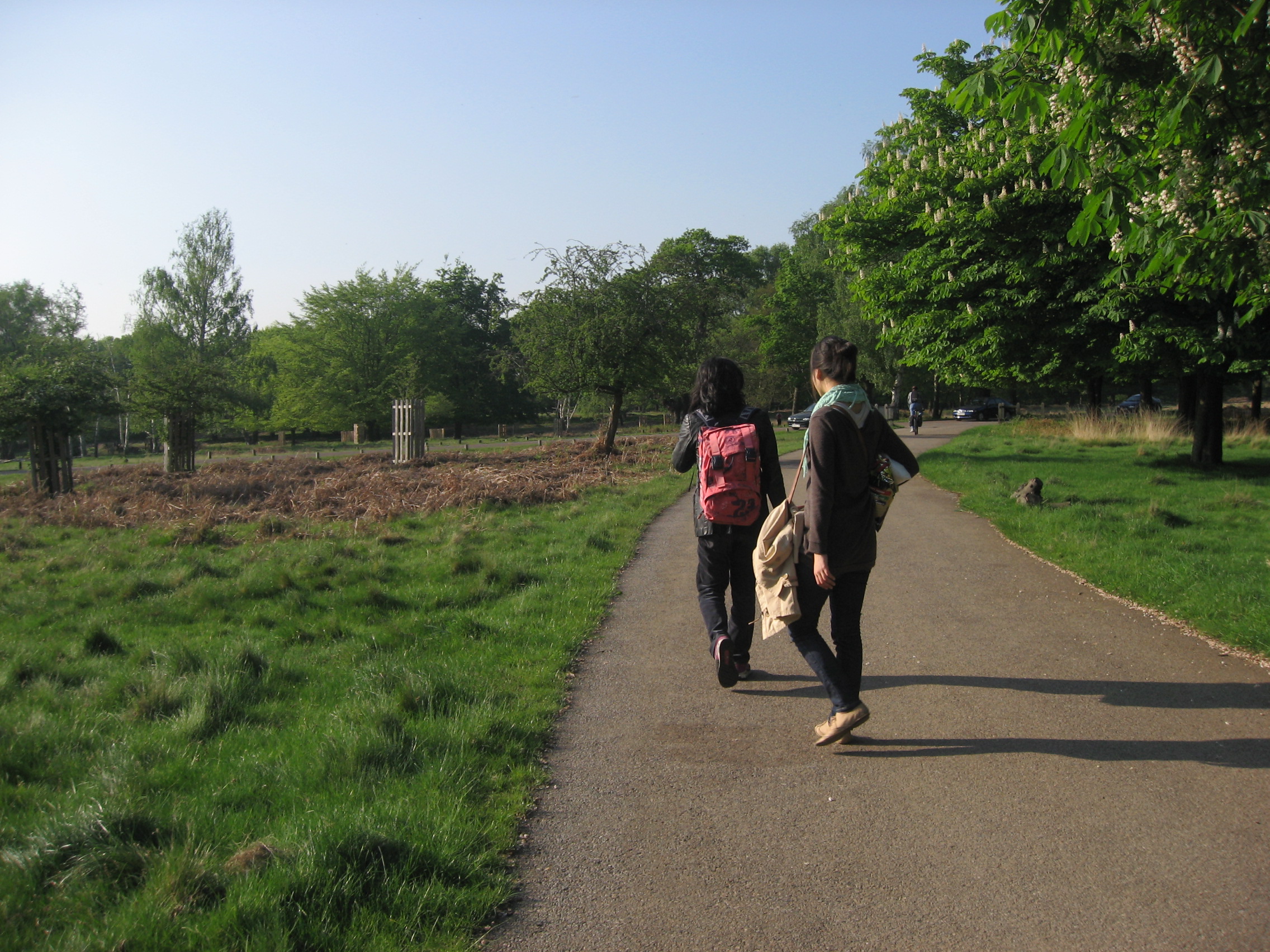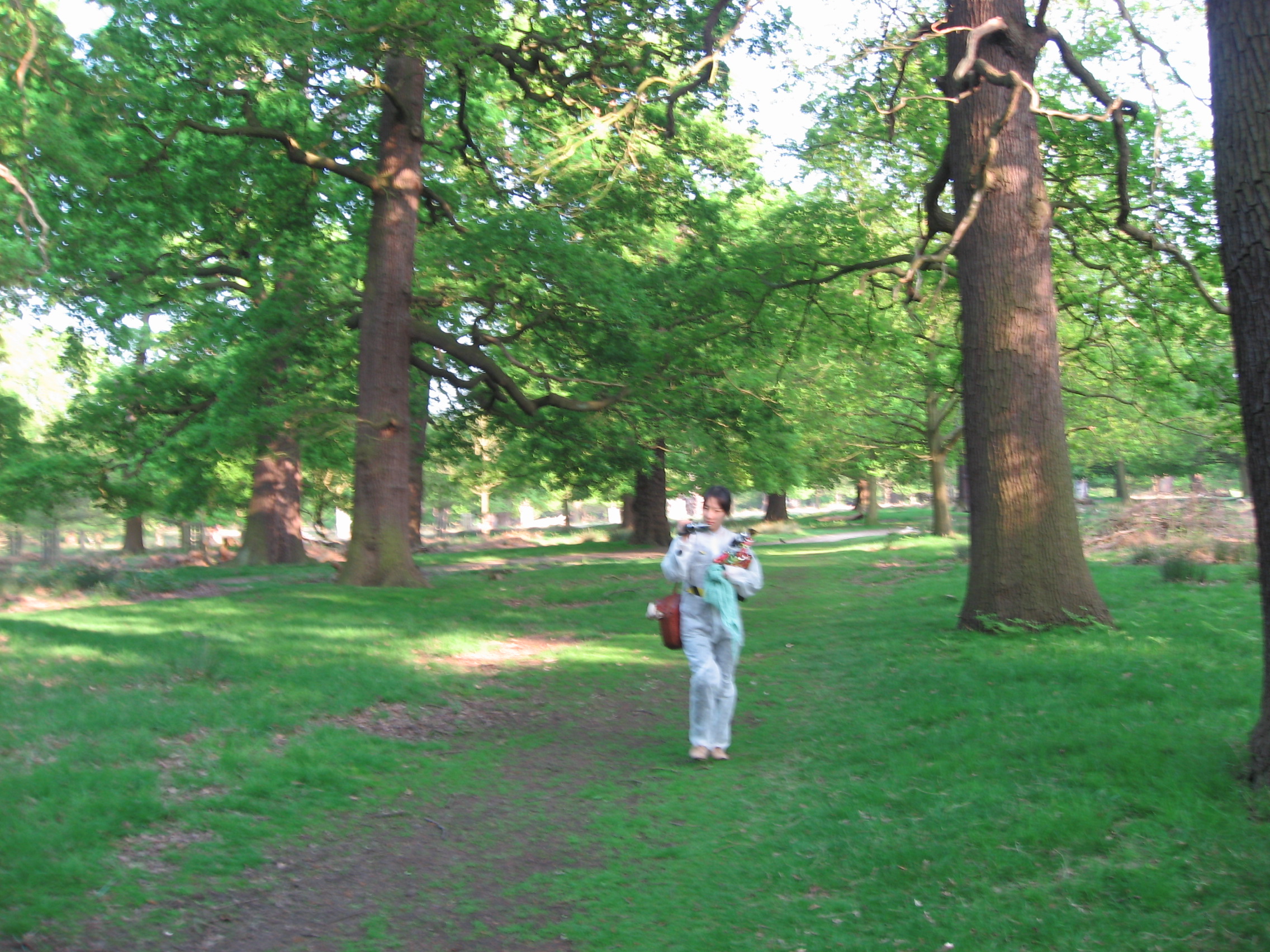 "a song for deers" 02'55", color, sound, single channel video, 2008
이 제목의 그대로의 영상은 사슴을 위한 노래로 제작되었다. 이 리치몬드 공원(런던에 위치한) 에는 사슴들이 그들의 안식처로서 생활하고 그들의 인생을 살아간다. 하지만 많은 사람들이 해마다 그 수는 증가하며 사슴들의 배려심 따위는 없이 자신들의 편의를 위하여 이용하고 침범한다. 작가는 그러한 형태를 사슴들에게 감사와 사과를 표하며 어쩌면은 그 의상과 노래가 인류학적 인간에게는 추해 보일 수 있는 행태가 사슴들에게는 가깝고 친근하며 아름다울 수도 있겠다는 상상을 하며 이 노래를 바친다.
A song for deers is just as the title suggests, it is a song for deers. This video is recorded in Richmond park in London. In this park deers usually walk and enjoy their own lives within a very relaxing situation. However, many people use the park to jog, walk or drive through. More so now than the deers use it for themselves. The percentages of the people using the park are increasing.
The director would like to express her appreciation and apologies both. Wearing clothes, which look more familiar than others to the deers, artists sing a song while performing. This is meant as a song for deers rather than for humans.
BIOGRAPHY
Born in 1982
EDUCATION
2009    London Kingston University, Fine Art, Art and Space M.A, United Kingdom
2007    Kyungwon University, Fine Art, M.F.A, Sungnam, Korea
2005    Kyungwon University, Fine Art, B.F.A, Sungnam, Korea
EXHIBITION
Solo Exhibition
2009 "
-April-May, savage school, window gallery, Bathnal green,London,U.K
-ha;f and.a.half dreaming", project studio "old unknowns", Nottingham, U.K
2008
-"daily drawing diary" project space, Kingston University, London, U .K
Group Exhibition
2010
-W-door, Korea&Japan Network show, Cas gallery, Osaka, Japan
-SangSang Nakwon(Imaginary utopia)_Hyundai Department Store-Mokdong,Seoul, Koea
2009
– The 3rd FRESH a Festival of International Video Art and Short Film Bangkok, Thailand
-Sampling space, summer painting camp, Gorge Enescu Museum, Tescani, Romania
2008
-"Dude wake up seriously wake the fuck up!", Oct. 2008, BargeHouse, London, U.K
-RadioActive, radiocurating 14th May pm1-2", live broadcast 10am-6pm, Kingston, U.K /(7th June am11-12")&Multicultural Artistic Festival, Poland
-design house, poster exhibition, WWAV Rapp Collins, Hammersmith, U.K
2006
-"secret party"_Korea&Japan friendship exhibition_+gallery, Nagoya, Japan
2005
-"Move around, Dive deep", Korea&Japan&China network, Yada citizen gallery, Nagoya, Japan
-"Work in progress", Gallery factory, Hyoja Dong, Korea